MARCH X ARTIST: ERIK HOLLAND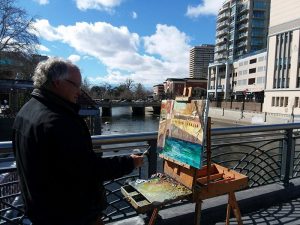 TEXT 'CANVAS' TO 30218!
The March X Artist is Erik Holland! He's a plein air painter, starting in San Francisco, Ca. in the 1990s. One of his first sales was to Rosemary Clooney! Today, this Riverside Artists Loft resident paints, teaches art at Encompass Academy, and draws cartoons for the Reno News and Review, among other publications. He's the Mayor 'DeEsprawlius of Nada Dada Motel, now called NadaVille! He's excited about his 2018 #Onemanpleinairevent, opening July 12th at La Terre Verte in downtown Reno. Many of the paintings in this show will have been created within the one square mile centered by the Riverside Artists Lofts. He's also excited about a new line of cards he and his Encompass Academy students are creating. The company is called EnCards, and we are having professionally printed cards for  every occasion! He's at work on his second cartoon book, "Outback Cartoonist Too".
The prize this month is an original painting of the Truckee River and Sierra Street Bridge valued at $400! Text 'canvas' to 30218 to try to win! Winner will be chosen and notified on April 2nd.
The winner this month will also receive a family membership to Sierra Arts Foundation.
Membership includes:
-Membership card
-On-line newsletter
-Monthly members only receptions
-10% discount at Wild River Grille
-½ price entry to all Sierra Arts Foundation events
-North American Reciprocal Museum Association membership, which gets you into over 850 museums and other attractions around the U.S. and Canada, including the DeYoung Fine Arts Museum and Walt Disney Family Museum in San Francisco.