SEPTEMBER X ARTIST: TINA MOKUAU
 TEXT 'ILLUSIONS' TO 30218!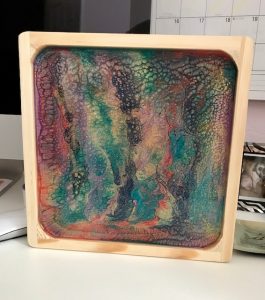 The X Artist of the Month for September is Tina Mokuau! Tina Mokuau's life-long love affair with art has been a constant comfort and source of joy. She has worked various fields from Makeup Artistry to painting, drawing, and experimenting in mixed media. Tina has a passion for color and the transformative beauty of art. She works with acrylics, alcohol inks, resin, and more! Tina studied Art at Truckee Meadows Community College and has attended various art studies both here in Reno and in her hometown of Honolulu, Hawaii. Tina has generously provided four pieces to give away this month, one per week. The third prize this month is a piece called 'Illusions,' valued at 45 dollars! See it to the right and text 'illusions' to 30218 to try to win! Winner will be chosen each Friday. Click Here to see more of Tina's work.
One of the four winners will also receive a family membership to the Sierra Arts Foundation which includes:
-Membership card
-On-line newsletter
-Monthly members only receptions
-10% discount at Wild River Grille
-½ price entry to all Sierra Arts Foundation events
-North American Reciprocal Museum Association membership, which gets you into over 850 museums and other attractions around the US and Canada, including the DeYoung Fine Arts Museum and Walt Disney Family Museum in San Francisco.
You could also win this piece: